To Hear and Be Heard
Roberto Lugo
Roberto Lugo is an American artist, ceramicist, social activist, spoken word poet and educator. Lugo uses porcelain as his medium of choice, illuminating its aristocratic surface with imagery of poverty, inequality and social and racial injustice. Lugo's works are multicultural mashups; traditional European and Asian porcelain forms and techniques reimagined with a 21st-century street sensibility. Their hand-painted surfaces feature classic decorative patterns and motifs combined with elements of modern urban graffiti and portraits of individuals whose faces are historically absent on this type of luxury item – people like Sojourner Truth, Dr. Cornel West, and The Notorious BIG, as well as Lugo's family members and, very often, himself. 
Lugo holds a BFA from the Kansas City Art Institute and an MFA from Penn State. His work has been featured in exhibitions at the Houston Center for Contemporary Craft, the Clay Studio in Philadelphia, and the Museum of Arts and Design in New York, among others. His solo exhibition at the Walters Museum of Art received international acclaim, earning a spot in Hyperallergic's "Top 20 exhibitions of 2018." 
Lugo is the recipient of numerous awards, most recently including a 2019 Pew Fellowship, a Cynthia Hazen Polsky and Leon Polsky Rome Prize and a US Artist Award. His work is found in the permanent collections of the Los Angeles County Museum of Art, Philadelphia Museum of Art, High Museum of Art, the Museum of Fine Arts Boston, Brooklyn Museum, Walters Museum, and more. He is currently an Assistant Professor at Tyler School of Art and Architecture.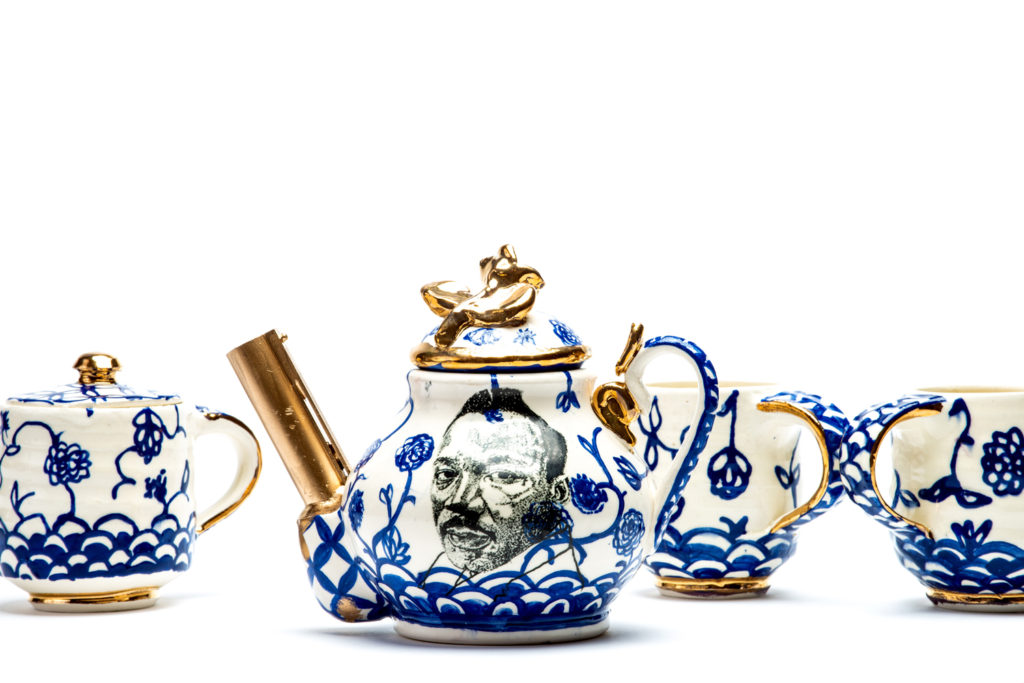 Tupac/MLK Teapot and Tea Set
The portraits on Roberto Lugo's porcelain vessels feature athletes, actors and exemplary citizen activists like Harriet Tubman and Angela Davis, musicians such as Nina Simone, or paired portraits, as in this work with Martin Luther King and Tupac on opposite sides of a tea pot "in conversation." Lugo reminds us, "Usually when people sit down and drink tea, it's more than one person and it happens around a conversation. There's more implied than just the consumption of tea."1 What if we could sit down and have a conversation with these people? What would you talk about? More broadly consider what could we learn, what could we solve, if We the People sat together and listened to each other? 
1 Bessie Rubenstein, "Meet Roberto Lugo, the Potter Making Ceramics of Biggie and Basquiat", interview with Roberto Lugo, Interview Magazine, March 17, 2020. https://www.interviewmagazine.com/art/roberto-lugo-vessels-biggie-basquiat
Artist Statement
I am a potter, social activist, spoken word poet, and educator. All of these roles are rooted in my childhood. Having had no formal music or art training, I often practiced table drumming and writing hip-hop lyrics as it was customary to "battle rap" during lunch. Instead of art class, I drew in my composition book, and marked every wall that I could. "Graffiti" was a way to get my name into the community, to attain a local fame. 
Today my graffiti is defacing social inequality. I teach communities to make mosaic murals to honor victims of gun violence. I see my pottery as a process of transforming the ground we walk on into something we eat from; we search all day for the perfect spot to put it on display. In many ways this transformation of tragedy into triumph is a metaphor for my life's story. 
My experiences as an indigent minority inform my version of Puerto Rican American history. With my education in critical theory, art education, art history and studio art I have developed a studio practice that fluidly communicates with diverse audiences. I bring art to those that do not believe they need to see it, and engage in deeper ways of knowing, learning and thinking. – Roberto Lugo